THE ORIGINAL CREATOR OF THE FIRST NATURAL, ECO-FRIENDLY AND SAFE, BED BUG SPRAY TREATMENT IS HERE FOR YOU.
Your Most Complete System to Eradicate and Eliminate Bed Bugs Once and for all!  Guaranteed!
Introducing our most advanced weapon against Bed Bug infestation. The effort to relieve yourself from Bed Bugs begins with a comprehensive plan of attack, backed by scientific studies and consumer reviews that demonstrate that Bed Bug Patrol Treatment is indeed the choice of thousands who have successfully terminated their Bed Bug problems.
See for yourself, what children and pet-friendly, all-natural Bed Bug Patrol remedies can do for your home, your family, and your peace of mind. Find out more below.
Sprays Alone Won't Completely Rid Your Home of Bed Bugs-It's Going to Take Some Effort on Your Part! Don't Worry, We've Got You! 
This is where Bed Bug Patrol can make you feel more confident in your efforts to take back your home. Follow these steps and see the results for yourself! Home or Hotel, we've got you covered.

Why Other Treatments Fail Is Due To Not Following The 3 Key Steps In Comprehensive Treatment.
STEP 1:
Clear The Room
Move mattress covers, linens, and clothing into a tumble dryer. If the care label allows, dry on the highest setting (typically 140 °F) for at least 30 minutes.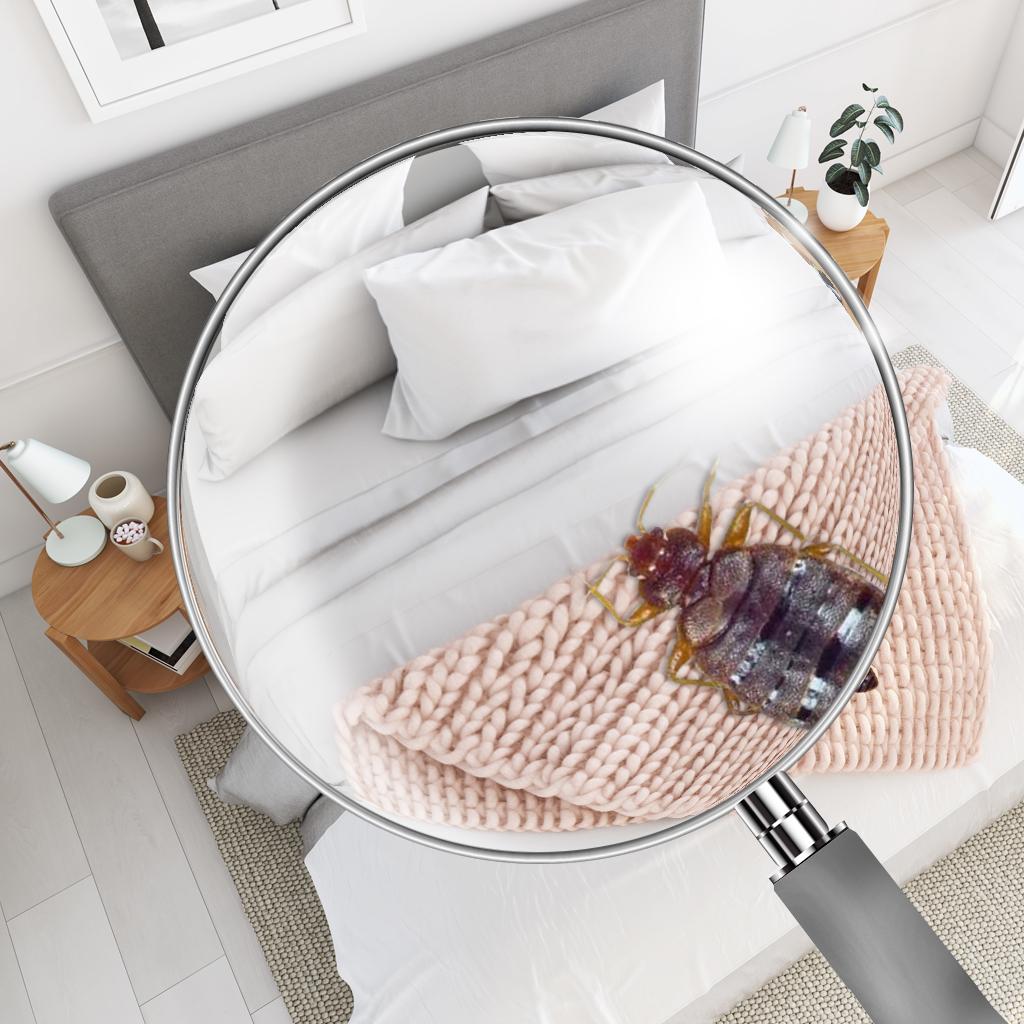 STEP 2:
Inspect Area
Preferably with a UV flashlight, inspect the area to gauge the size of the infestation. Start with the affected mattress and work outward to the edges of the room, leaving no crack or crevice unexplored. Look for bed bug eggs, shell-like remains, and specks of blood from previous attacks.
Bed Bug Patrol Complete Kits Will Increase Your Winning Outcome In Eliminating Bed Bugs, And The Good News Is They Come In Various Sizes To Meet Your Specific Needs.
If you've identified that you need a simple, quick-fix solution, and your problem is contained in one small area of your bedroom, then consider utilizing this all-natural option for your mattress and box spring. After further investigation, if you want to protect your entire room, consider one of our kits to fit your needs.

When it comes to protecting multiple bedrooms in your home, consider this kit to assist you in treating a larger area and multiple mattresses, cracks, and crevices. Don't forget to treat curtains, your laundry, and other surrounding furniture for a thorough effort in your win to overcome any infestation.

Protecting your entire home ensures a complete line of defense in your offensive attack on eliminating bed bugs. From bedrooms to the dining room, kitchen, and laundry. Make sure you cover areas where bed bugs can hide, and feed. Our complete kits are ready for you to eradicate the bed bug problem.
Only Allow Natural Ingredients to Work for Your Family and Your Home.
Completely safe for your children, and your pets, Bed Bug Patrol is one of the few products on the market that have been tested by Snell Scientifics, LLC, and achieved 100% mortality in split test studies.
Our Ingredients Contain Essential Oils, No Harmful Chemicals, and are NEVER Tested on Laboratory Animals.
Find a Solution For YOUR Situation
Bed Bug Patrol Has Been Helping Families And Businesses Eliminate Bed Bugs Since 2003 And Is A Name And Product You Can Trust For All Of Your Bed Bug Needs.
Bed Bug Patrol - Bed Bug Spray's complete treatment program is trusted by families, businesses, hotels, and anywhere an effective, all-natural treatment is required. Bed Bug Patrol has been helping families and businesses get rid of bed bugs since 2003 and is a name and product you can trust for all your bed bug needs.


Snell Scientifics, Inc. tested and proven effective 100% Mortality Rate
Naturally kills bed bugs on contact*
Kills bed bugs AND their eggs ending the bed bug life cycle
Easy-to-use trigger sprayer
Pleasant Peppermint aroma
Non-staining formula; can be used on many surfaces
Safe to use on mattresses, box springs, linens, carpets, and MORE


Bed Bug Patrol Natural Bed Bug Killer Spray contains all-natural ingredients and is proven to effectively eliminate bed bugs (Cimex lectularius) without the harsh pesticides found in many traditional treatment methods.


Most Bed Bugs treatment products use Permethrins and Pyrethrins, which are seriously toxic carcinogens and harmful to humans and pets.


*Kills on contact: bed bugs generally die within 30 minutes to 24 hours of contact with Bed Bug Patrol Natural Bed Bug Killer.
For SDS click here.
Backed by Science and Most Importantly, Thousands of Our Customers.
Journal of Economic Entomology,
Volume 107 Issue (6)

1 December 2014
Potential of Essential Oil-Based Pesticides and Detergents for Bed Bug Control
Narinderpal Singh, Changlu Wang, Richard Cooper, Author Affiliations
J. of Economic Entomology, 107(6):2163-2170 (2014). https://doi.org/10.1603/EC14328
Findings: "Bed Bug Patrol (0.003% clove oil, 1% peppermint oil, and 1.3% sodium lauryl sulfate) caused >90% mortality of nymphs indirect spray and forced exposure residual assays."
Don't Just Take Our Word For It!
Don't Just Take Our Word For It!
SO FAR SO GOOD!!!
"In March, we found bed bugs on one of our kids' mattresses. We got rid of the old mattress and treated the room with tea tree oil and naively thought we had resolved the problem. Three months later, we found bed bugs in the room that shares a wall with the first room. We purchased another new mattress for that room and treated the room with a natural bed bug spray purchased at the store. We found the bed bug store and placed an order, but before our order arrived, we found a few bed bugs back in the original bedroom again, as well as a few in the second room, which had been sprayed with the other natural treatment spray. At that point, we treated both bedrooms with bed bug patrol spray and the dusting powder. The bed bug patrol spray instantly killed the few remaining bed bugs that we located when treating the rooms. Our kids stayed out of their rooms for two weeks while we monitored the rooms daily using the bed bug patrol as needed and vacuuming the rooms daily. We also put mattress covers (not purchased at the bed bug store) on both mattresses, as well as all other mattresses in our house even though they have not shown any sign of bed bugs. We have also used the dusting powder in all other rooms of the house, to include baseboards and furniture, as a precaution. It has been ten days since we have seen any bed bugs in either of the rooms. We plan to continue to monitor the bedrooms for any sign of bed bugs and will do another round of the dusting powder throughout the house in another two weeks. We are so grateful to have found the bed bug store (found it on Pinterest while searching for bed bug treatments) and are feeling optimistic that we have gotten rid of our bed bug problem once and for all! Thank you bed bug store!!"

– A. M.

USE OF SPRAY.
"We have been using the spray for the past two weeks in various parts of the house. It has worked well to help us rid several areas of the bugs, which we think were brought in by a visitor's suitcase. Your information booklet has also been helpful. We especially like the fact that it does not stain furniture, etc... It takes a lot of work and concentration to get rid of bed bugs, but it DOES help to have a product that does not stain. We're battling on."

– Leonard D

HIGHLY RECOMMEND!
"Purchased the product after finding it online. I wanted something fast especially after my wife told me she thought we had bed bugs. We had just gotten back from a trip to New York and had left the suitcases sitting in the room for a few days. When I went to unload the suitcases, there they were... then I went to the bed, yep a few of those SOB's were crawling around. Luckily I found out that the product could be picked up locally-so I took off and grabbed a gallon. Took off all the sheets like the instructions outlined, and tossed them in the dryer. Took all the clothes and ran them through a hot cycle and then to the dryer... Then sprayed everything, cracks, mattress, everything I could think off...
Been over 4 weeks now and nothing... no bugs, no issues."

– Dan D
More Rave Reviews from our Amazon Customers!
"The last week of January, I discovered a tiny bug crawling toward me as I sat on my couch (which, btw, was purchased brand new 10 years ago and whereupon, I must admit, I have been sleeping since prior to the Nov election). Instinctively, I killed it right away and didn't give it another thought. A couple of days later & then over the next week I saw several more, this time catching them & identifying them through a magnifying glass, as BED BUGS, to my shock and horror!!! A good friend who suspected she had bed bugs a year ago was charged thousands of dollars by a dog-sniffing abatement firm, while turning her apartment inside out and throwing away most of her belongings. I wasn't about to go through all that. I did not want any toxic chemicals in my environment because I'm still kind of holed up due to Covid-19 social distancing, so with my DIY mindset, I decided I was going to attempt to get rid of them myself. I did some online research and ordered a bottle of "Bed Bug Patrol". Meanwhile I vacuumed every inch & crevice of my couch, the floor, the baseboards, mopped; basically Spring cleaned. I then sprayed the bottom of my couch with the bug killer, as well as the floor where it meets the walls, around electrical sockets, etc., as directed.
I stopped seeing bugs IMMEDIATELY after the first application. I decided to continue to sleep on the couch for fear that the bugs might follow me to the bedroom, where fortunately none were detected. Nevertheless, I treated the whole bedroom, to be sure. (I suspected that the bugs got into my space either 1) through the wall behind my couch which I share with a new neighbor that that recently moved in, 2) picked up from having sat on a bench at the DMV or 3) from the back seat of a taxicab that week.
Initially the scent (Clove & Spearmint) was overpowering, so I slept with an N95 mask, concerned that it was going to irritate my sinuses or throat. No irritation and by the next day I had gotten used to it and now really like the scent, as I associate it with a feeling of security. I reapplied 3 more times, a week apart each & plan to continue to reapply beyond the recommended time frame, and then periodically from now on, as a prophylactic measure. This product really worked for me and I highly recommend it!"
- Barbara
"I can put in smaller spray bottles to take on my travels. I always use something for bedbugs no matter the hotel or cruise. After being attacked on travels by them I prefer to protect myself before finding out the hard way."
- Sherry
"Worked really good, and has a nice smell to it."
- Edward
"so far no bugs to be seen ,nice smell, doesn't smell like bug spray."
- PDM 
"I previously used a different spray treatment that didn't work too well(spent over $300). Had to spray EVERY DAY! Since using Bed Bug Patrol I haven't been bitten or seen a bug! I spray a couple of times a week now. So it really seems to be working! The only thing is that I thought it would smell like cinnamon & it really doesn't. I would definitely recommend this spray!"
- Patricia
"Took on beach vacation to spray our beds. Where I live we don't deal with roaches or bed bugs etc I'd rather be safe knowing the bed I sleep in for a week is bug free."
- Laurie
"Very easy to use and it finally got rid of the bed bugs. It was worth the money and very reasonable."
- MG
"OK here's the deal: when I got bedbugs I read all the fearmongering and anxiety on the internet and was convinced I was going to have to burn my new bed I had just finished payments on. I found this spray after looking through so many blogs and strategies. I'd used bedbug sprays that were chemical and really heavy and stuck to everything - this one is surprisingly light and herbal. I tend to doubt the efficacy of herbal remedies, but it worked so well and got rid of weeks of bites every night in just one day. I coupled it with a mattress cover the next day (to make sure they don't come back), flea traps, and diatomaceous earth, but the spray is what stopped the bites. I've never found any bugs on me since and was able to finally de-bedbug battle my room a week ago.

So if you think your home is forever changed by the chaos that is bedbugs, try this spray before throwing everything away. Don't believe what you read on mommy blogs, and don't stress!"
- Artgirl4

"Excellent product. My husband saw the YouTube video on this product. We decided to try it. It works just as the video states. This is the second purchase and have not had an issue with bedbugs." 
- Kenya

"Got this for a friend who was infested and had an exterminator out twice with little luck. Sprayed it on areas of infestation and could see the bugs die. Great product and well worth the value." 
- Todd D
"This product worked well with spot application on items that could not be washed and dried on hot or put in the freezer, such as toys and stuffed animals. It supplemented professional management. Plus it has a nice smell that doesn't linger."
-  Heather P
"I made a video but for some reason couldn't upload it, but it did work on contact! They curl up and die almost instantly. Some don't die right away but do within seconds of contact. The smell is pleasant, like minty, and I accidentally sprayed my brother in the face with it and it didn't even burn him or anything. I HIGHLY recommend this product!"
- Amy

"I liked it because the smell wasn't as bad as some pesticides. is harmless to humans and animals."
- Sharon
"It worked and has a great smell, enough said."
- Curly Girl
"I used this for our luggage we used after we found one bedbug crawling on the Hotel bed at Bradenton, Florida. We paid for a premium room of this hotel, there is no safe Hotel at all. I always checked using my phone flashlight as soon as I entered the room. And yes I did not found any bugs the time we checked-in because it was a really clean room but at night when my husband was sleeping I saw one crawling on my husband back. So as soon as we got home I ordered this, hoping and praying it will kill any bugs (if any) goes into our luggage. So far I didn't find one but I used this spray all over the zippers of our hard luggage and inside too, just to be safe. The smell is not bad at all, peppermint smells."

-  Joss
"Worked for me... no more bed bugs! good product."
- Clarence

"This works SO well! I cannot say enough about how awesome this product is! Bedbugs came to our house thanks to my son and have wreaked havoc on us all. This product, when used right is working like magic!"
- Laura

"So glad that I decided to try this product, after one-time use, we immediately saw an improvement. And the scent, I wasn't expecting but the scent is wonderful, which also makes this product easy to use."  
- Alicia

"The spray does as advertised, I liked it very much!"
- All There
"Was able to use on bedding and worked great!"
- Saundra
NATURASIL®- A TRUSTED LEADER
OVER A 19+ YEAR HISTORY OF PROVEN RESULTS WITH REAL PEOPLE FINDING THAT NATURASIL PRODUCTS–REALLY WORK!