FACT:10-20%ofALL AIDS/HIV PATIENTS will contract MOLLUSCUM CONTAGIOSUM

(Cleveland Journal of Medicine)
WE CREATED THE TOP SELLING NATURAL REMEDY TO GET RID OF IT!
What is Molluscum Contagiosum?
Molluscum Contagiosum (mo-LUS-Kum Kun-tay-jee-OH-sum) also known as water warts, is a relatively common viral infection of the skin that results in round, firm, painless bumps ranging in size from a pinhead to a pencil eraser. If the bumps are scratched or injured, the infection can spread to the surrounding skin. Molluscum Contagiosum also spreads through person-to-person contact and contact with infected objects. Though most common in children, Molluscum Contagiosum can affect adults as well — particularly those with weakened immune systems. Molluscum Contagiosum has been around since the first diagnosis in 1814. 
Since AIDS/HIV and Cancer patients have a lowered immune system, they are highly susceptible to contracting this contagious disease. While very treatable, it's still highly unpleasant to deal with along with your existing fight for good health.
At Naturasil, our Molluscum Contagiosum remedy can remove the itch, soreness, and sensitivity that you feel with this infection. Let US help YOU!
Your chances of MOLLUSCUM CONTAGIOSUM are Higher if you have:
Other skin problems such as atopic dermatitis
Problems with your immune system from:
HIV infection
Medicines
Leukemia
(Cancer Center of Western New York)
LEARN MORE: SEE WHAT OUR FOUNDER HAS TO SAY ABOUT MOLLUSCUM AND OUR TREATMENTS👇
Image Right:
Kids can get Molluscum Contagiosum in a few different ways. It spreads easily, and most commonly, through direct skin-to-skin contact, but kids can get it by touching objects that have the virus on them, such as toys, clothing, towels, and bedding.


Once someone has Molluscum Contagiosum, it can be spread from one part of the body to another by scratching or rubbing the bumps and then touching another part of the body.
Find The Pack That Is Right For You
Please note, these products are for external use only and are not designed for ophthalmic use.
THE VIRUS THAT CAUSES MOLLUSCUM CONTAGIOSUM SPREADS EASILY.

Skin-to-skin contact
Contact with contaminated objects, such as towels
Sexual contact with an affected partner
Scratching or rubbing the bumps, which spreads the virus to nearby skin
It's not clear if the virus can be spread in the chlorinated water found in swimming pools. Experts suspect that it's more likely that swimmers transmit the virus through shared use of towels, toys, and equipment such as kickboards or skin contact.
TO HELP PREVENT SHARING THE VIRUS:

Wash your hands

. Keeping your hands clean can help prevent spreading the virus.

Avoid touching the bumps.

 Shaving over the infected areas also can spread the virus.

Don't share personal items

. This includes clothing, towels, hairbrushes, or other personal items. Refrain from borrowing these items from others as well.

Avoid sexual contact

. If you have molluscum contagiosum on or near your genitals, don't have sex until the bumps are treated and have completely disappeared.

Cover the bumps.

 Cover the bumps with clothing when around others, to prevent direct contact. When swimming, cover the bumps with a watertight bandage.
NOW YOU CAN ELIMINATE MOLLUSCUM CONTAGIOSUM

SAFELY, AND PAIN-FREE EFFECTIVELY!
1. NO PRESCRIPTION REQUIRED, PRIVATELY TREAT YOURSELF AT HOME.
2. 100% NATURAL OTC TREATMENT - GUARANTEED TO WORK.
3. PROVEN EFFECTIVE IN OVER 26,000 TREATMENTS ANNUALLY.
Naturasil is
THE
#1 Molluscum Treatment 
choice among those that tried other remedies & failed. Our treatment is 
fear-free 
for children and adults and 
Parent Approved!
Don't Just Take Our Word For It!
"IT WORKS"


After a year, and trips to the doctor, we were feeling discouraged about these bumps/warts. They started above his eyebrow and spread to his eyes, arms, legs and torso. I came across this product and decided to give it a try based on reviews. We are so glad we did! It's been almost 4 weeks and my son's immune system is finally fighting this virus. They do get bigger, and red before they start heeling. I have been applying this serum 4x a day. We are feeling hopeful that the rest will go away before he starts middle school.
Kimberly
"BEST TREATMENT FOR MOLLUSCUM"
"This stuff works! We'd tried everything for our daughter with no success. We were about to call the doctor to do a freezing treatment. My aunt suggested this stuff and we gave it a shot. 3 weeks later her legs look almost 100% better. The before and after are just amazing!" 
- Sarah
"IF YOU ARE CONSISTENT, IT WILL WORK!"
"I have never written a review in my LIFE, but as a concerned parent, I feel like I should share my experience.

After trying out 11 other products I finally found my answer!!! I felt like I have tried it ALL! Band-aid patches, creams, ointments, special soaps who all itched excessively, burned A LOT, and created heart-filled tears! I struggled for a year in looking for a solution for my 5 year old son's pesky Molluscum. Doctors just told me to wait it out but we had been waiting for 2 years. I had to do something for him to gain back his confidence in wearing shorts.

I regret not taking pictures but this stuff works!!! I put it on my 5 year old son at the time. No burning, no irritation, just please BE CONSISTENT on applying 3x a day on every little dot, everyday. I started seeing results in as little as a week! If too many Molluscum dots start just in one area like I did which was behind the knees only. Now I am buying for my 6 year old niece who has the same issue and saving my sister from a lot of headaches and heartache on what to buy for her child!"
Mel
"100 RECOMMEND (:"
"100% recommend! My 7 year old had over 20 'bumps' on his face and body. I started applying this product about three to four times a day and it was gone in a week! Any new ones we see we knock it out early! I will always keep this stuff around! Bless the people who created this product, it really truly is magical."
-thankful mom.
Dylan
"THIS ACTUALLY WORKS!"
"My kids got molluscum over the summer after swimming with some cousins who had it I order this stuff and applied it generously all over the infected areas once a day after bath and within 2-3 weeks it was gone! I was expecting to struggle with it for the full year this stuff works great it's pricey and has a strong smell but it's well worth it!"  - Leah

"LIFESAVER"
"This works quickly! Cleared up within a couple of weeks. The dr stated there was no way to treat and to just wait it out(could take a couple of years."  - Amy

"LOVE THIS"
"This stuff is phenomenal. My son's bumps were spiraling out of control and this not only halted the reproduction but eliminated 80% of them. I would highly recommend this product."  - Erica
"SO glad I didn't just let molluscum resolve on its own..."

"Our ped said my son's molluscum should resolve within a few years. That may have been fine if it didn't spread, though that was a little upsetting when it went from just being just a few on his inner elbow to being all over his trunk and on his legs, other arm and his back I knew I couldn't just let it go. We used this once every day at bedtime, and the spots that were newer cleared up within 3 weeks and didn't even need to be touched. The ones that had been there longer took almost two months to come to a head and then go away. The first one he had was the largest and the most stubborn, but it eventually gave in and went away. There's some scarring where the ones he had the longest were, so my advice is DO NOT WAIT to treat this or you risk increased scarring and longer treatment time. They develop a white head of sorts, and that's white stuff is what's contagious, so we were able to pull that out fairly easily while he was distracted so that he didn't scratch them and spread them more. I think that could have been what caused some of the scarrings, but there were some that scarred even though I didn't touch them, so it's hard to tell. I didn't want to risk spreading it even more, so we pulled the white part out and applied some pressure if it bled. It didn't seem to be painful to him. This stuff doesn't smell great, but once we put his pajamas on him, the smell wasn't as strong. I am so glad I bought this!!!!"  - Holly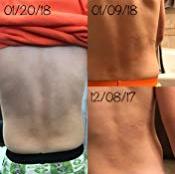 "
My 3 yo son was diagnosed with molluscum at the end of September 2017 with only a couple of bumps. By mid-November, he had over 25 bumps on his back, legs, and shoulders. While the dr said It would go away on its own but could take 6 months to a year, I decided to try naturasil. Worked like a charm: 3/4 of his bumps gone in 1month, completely cleared after 1.5 months. I recommend.  - Frenchie Momma


"
"I have literally never written a review but I just had to about this. My son had molluscum for months and his doctor basically told me there was nothing they could do but let it run its course.... which can take months. It started on his left arm and then started spreading to other parts of his body and only got worse. That's when I decided to try this stuff. I didn't take a before picture of his arm but it was literally covered from his armpit to his wrist. This picture is what it looks like after using this oil for 4 weeks. He only has two spots left."  - Beth 


"I can't believe it works!!!"
"This natural oil really works, I cannot believe after only 2 weeks using it twice a day on my daughter the molluscum is 90% gone, we have been battling this virus for soo long and taking her to the dermatologist for acid treatment with no results but now she is getting ready for the summer with her clear skin....thank you soooo much for this product.....I will recommend this product to my Pediatrician and the school nurse that if they have seen a kid that has this condition to tell them about this!!! It is a miracle natural product!!!"  - Mayra 

"It worked and I'm a young adult!"
"Naturasil for Molluscum worked for me and I am an adult. It took about three weeks to cure. After the second week, I started to get a little impatient and doubtful considering a lot of the successful reviews were on children with Molluscum. Despite that, kept my hopes up and I maintained applying it morning and night and sometimes mid-day and before I knew it the bumps were gone! Completely gone! Also, I made sure to lightly use an emery board above the skin as suggested to speed up the process. I am completely satisfied and for you, young adults who have come across this temporary infection don't be alarmed, there is a way and this will probably work for you, it just takes some time and patients."  - Alexia
"HIGHLY RECOMMEND"
"My daughter had molluscum on her belly and two on her leg. Two got as big as a pencil eraser. She had roughly 20-25 spots and most of them cleared up within a week and a half to two weeks. I highly recommend this product to get rid of molluscum. As they were clearing up a couple of them got a little white head on them. Those ones I carefully popped with hooked tweezers to get rid of that contagious part. Then cleaned with alcohol to prevent any more new bumps from appearing and spreading the virus further. The rest of the bumps that didn't develop a white head on them, I left alone and they dried up on their own."  - Karina

Naturasil Molluscum Contagiosum Treatment

100% SATISFACTION–33-DAY, MONEY-BACK GUARANTEE.
Naturasil's Molluscum Contagiosum treatment formulas have active ingredients that are officially monographed in the "Homeopathic Pharmacopoeia of The United States" and are based on the materia medica.
THIS IS SOMETHING YOU HAVE TO READ!!!
The Reason Many Treatments Have Failed In The Past? Until now there has never been a more effective-comprehensive treatment remedy.
AND IT'S GUARANTEED!
Many treatments fail because they treat only one symptom or only one host. They are ineffective at treating the big picture. What good is the temporary relief, if only to become re-infected the very next day?
Molluscum Contagiosum is Both Intolerable and Embarrassing.

The itching bumps, loss of clear skin, soreness, and knowing that papillomavirus is present on your skin are truly unbearable. You just want it gone. 
You've already tried pesticide-based prescriptions and you've experienced the side-effects without the promised cure. 

You're not alone, this is a story shared by many.
Helping people just like you is why our all-natural Molluscum Contagiosum treatments were created. 
Each pack contains all of the components of successful, natural treatment. They work together to treat your symptoms and eradicate the source: Molluscum Contagiosum.
THE MOST INNOVATIVE, COMPLETE FORMULA TO EFFECTIVELY ELIMINATE MOLLUSCUM-IS HERE, AND IS NOW AVAILABLE WITHOUT PRESCRIPTION!

You need a set of products designed to work together in the proper proportions to treat you and those living in your household. Take a look below for more important information that you cannot be without!
Please note, these products are for external use only and are not designed for ophthalmic use.
END THE MOLLUSCUM NIGHTMARE NOW.
Get the all-natural, #1 REMEDY, complete package for treating YOUR molluscum.
LEARN MORE: SEE WHAT OUR FOUNDER HAS TO SAY ABOUT MOLLUSCUM AND OUR TREATMENTS👇
"This product is absolutely amazing. My boyfriend and I both got molluscum in a very...unsavory place. Anyway, I would post pictures of how well this stuff worked but I think that would be frowned upon. As soon as I started using this stuff I noticed a difference. I was in some serious pain before and this stuff helped so much. I was almost completely healed in about 10 days!

If you are suffering from molluscum and want it to go away quickly, BUY THIS PRODUCT!!!!!!!!" 

-Julie P.
*Results may vary

"I waited to post my review until I saw results or enough time went by. The truth is, in the beginning, I was putting it on her four times a day (my 6-year-old daughter). But I slacked. About three weeks ago, I got back into a good schedule of at least 2-3 times per day. Prior to starting this treatment, I took pictures of each of the 15 molluscum on her body. The worst was the cluster on her face. They were huge and looked terrible. Kids were picking on her and I had had enough. She has had these since last fall, and more had arrived since the two on her face showed up last year. I've tried other treatments (natural products that were very similar to this one). They did NOT work. I used those other products religiously, 3 times/day for MONTHS. Nothing. So I started this, early July, slacked a bit, then got back on a good schedule. This stuff WORKS. The big nasty cluster on her face is almost gone. The one on her belly is GONE, the ones on her legs and arm are going through the "stages".

The stages are this: First, they start looking really red and they appear to get BIGGER (and they do, my guess is that the virus from the inside is being drawn outward). Then once they are really big, they begin to look like poison ivy, red, kinda gross (as you could pop em, I didn't do that, and I don't suggest anyone try that). Then they kinda scab over and the next thing you know, they are GONE. I mean NOT A TRACE gone.
My daughter and I both like the smell of it (some don't like it, we don't mind it). I took pictures of them all through the treatment process and plan to bring the box (empty) and the photos to her pediatrician's office so they can recommend this product (they said they may buy a few to hand out).
Ultimately, I am so thankful for this. One bottle was MORE than enough, even though I knocked it over at least twice and spilled some. It was WELL worth the cost (which honestly, wasn't too horrible anyway!). I highly recommend this product, but I urge you, start with four times/day if you can, but at least try to stick to 3. When I applied it, I would use the little brush thing and kind of hold it there on the spot, working it into her skin. Finally: Not once was she uncomfortable. Even when it was red and "angry" looking, she didn't complain once about even a tiny stinging feeling (which some remedies cause the skin to feel like it's burning). Thank you again and I hope this review, albeit long, was helpful". 

– Allison
"Amazing! My son has had a molluscum infection for almost a year. About the time one bump goes away another one pops up. I have used 7 (seven) remedies...nothing worked. With this homeopathy - his bumps were gone in a month. I wish I had tried it earlier!"
– Audrey 


"This product is amazing! It has gotten rid of all of my daughters' molluscum bumps. Been using it for a few months now and they are all almost gone! Kept being told by doctors oh they will just go away on their own... a year later and they were still there plus more!! Bought this product and they are all basically gone!! Definitely worth it."
- Sunshine Girl
*Results may vary
100% SATISFACTION–33-DAY, MONEY-BACK GUARANTEE.

Naturasil's Molluscum Contagiosum treatment formulas have active ingredients that are officially monographed in the "Homeopathic Pharmacopoeia of The United States" and are based on the materia medica.
NATURASIL®

- A TRUSTED LEADER
OVER A 18+ YEAR HISTORY OF PROVEN RESULTS WITH REAL PEOPLE FINDING THAT NATURASIL PRODUCTS–REALLY WORK!