Naturasil is THE #1 Natural Molluscum Treatment on The Market.

Our Treatment is
FDA Registered

, Fast Acting, Fear Free, and Pain-Free for children and adults and supported by our

Money Back Guarantee

and over

200,000

Successful Treatments.
FACT: There are 200,000 CASES of MOLLUSCUM diagnosed ANNUALLY.

(Mayo Clinic-2018)
FACT: THERE ARE 200,000 CASES of MOLLUSCUM DIAGNOSED ANNUALLY.

(Mayo Clinic-2018)
GET RID OF MOLLUSCUM NOW!
Naturasil for Molluscum Treatment Kit For Children and Adults.
Our Top Selling Treatment Liquid plus Molluscum Treatment Soap. Good for all sufferers but best for large outbreaks and/or those with Molluscum on the genitals. Simply apply as directed. Best for treating Genitals and other sensitive areas. Ideal for children or adults with large or severe Molluscum outbreaks.
INSTRUCTIONS & INGREDIENTS
After washing the affected area, apply Naturasil for Molluscum 2-3 times per day.  For best results, allow airing to dry.

Thuja Occidentalis 6X HPUS

 

assists in the relief of Polypi and Naevi symptoms.*

Cedar Leaf Oil

 is used for its antibacterial and fungicidal properties.*

Melaleuca Alternifolia Leaf Oil

 is used as a topical antibacterial and anti-fungal.*

Ricinus Communis Seed Oil

 is 

used on skin disorders and issues and penetrates deep into the skin.*
Some individuals may be sensitive to essential oils. Please, skin test for tolerability. If irritation or reaction occurs, discontinue use. Results may vary.
Please note, these products are for external use only and are not designed for ophthalmic use.
*Markum E, Baillie J (2012). "Combination of essential oil of Melaleuca alternifolia and iodine in the treatment of molluscum contagiosum in children". J. Drugs Derm. 11 (3): 161ƒ165.
Why We Are The Top Natural Molluscum Treatment 
Top Rated Treatment By Moms
LEARN MORE ABOUT MOLLUSCUM AND OUR TREATMENTS
THIS IS SOMETHING YOU HAVE TO READ!!!
The Reason Many Treatments Have Failed In The Past? Until now there has never been a more effective-comprehensive treatment remedy.
AND IT'S GUARANTEED!
Many treatments fail because they treat only one symptom. They are ineffective at treating the big picture. What good is the temporary relief, if only to become re-infected the very next day?
Molluscum Contagiosum is Both Intolerable and Embarrassing.

The itching bumps, loss of clear skin, soreness, and knowing that papillomavirus is present on your skin are truly unbearable.
You just want it gone. 
You've already tried pesticide-based prescriptions and you've experienced the side effects without the promised cure. 

You're not alone, this is a story shared by many.
Helping people just like you is why our all-natural Molluscum Contagiosum treatments were created. 
Each Naturasil for Molluscum Treatment contains all of the components of successful, natural treatment. They work together to treat your symptoms and eradicate the source: Molluscum Contagiosum.
Image 2:

Kids can get Molluscum Contagiosum in a few different ways. It spreads easily, and most commonly, through direct skin-to-skin contact, but kids can get it by touching objects that have the virus on them, such as toys, clothing, towels, and bedding.


Once someone has Molluscum Contagiosum, it can be spread from one part of the body to another by scratching or rubbing the bumps and then touching another part of the body.
TO HELP PREVENT SHARING THE VIRUS:

Wash your hands

. Keeping your hands clean can help prevent the spreading of the virus.

Avoid touching the bumps.

 Shaving over the infected areas also can spread the virus.

Don't share personal items

. This includes clothing, towels, hairbrushes, or other personal items. Refrain from borrowing these items from others as well.

Avoid sexual contact

. If you have molluscum contagiosum on or near your genitals, don't have sex until the bumps are treated and have completely disappeared.

Cover the bumps.

 Cover the bumps with clothing when around others, to prevent direct contact. When swimming, cover the bumps with a watertight bandage.
THE VIRUS THAT CAUSES MOLLUSCUM CONTAGIOSUM SPREADS EASILY.

Skin-to-skin contact
Contact with contaminated objects, such as towels
Sexual contact with an affected partner
Scratching or rubbing the bumps, which spreads the virus to nearby skin
It's not clear if the virus can be spread in the chlorinated water found in swimming pools. Experts suspect that it's more likely that swimmers transmit the virus through shared use of towels, toys, and equipment such as kickboards or skin contact.
Need More Information on Molluscum Contagiosum?

Molluscum Contagiosum (mo-LUS-Kum Kun-tay-jee-OH-sum) is a relatively common viral infection of the skin that results in round, firm, painless bumps ranging in size from a pinhead to a pencil eraser. If the bumps are scratched or injured, the infection can spread to the surrounding skin. Molluscum contagiosum also spreads through person-to-person contact and contact with infected objects. Though most common in children, molluscum contagiosum can affect adults as well — particularly those with weakened immune systems. In adults with an otherwise normal immune system, molluscum contagiosum involving the genitals is considered a sexually transmitted infection. The bumps associated with molluscum contagiosum usually disappear within a year without treatment.

Traditional treatment methods include cryotherapy, curettage, laser therapy, or topical creams containing acids or chemicals. 

⭐We found a better way!⭐ 

Naturasil for Molluscum Contagiosum treats effectively and naturally without pain, scarring, or harsh ingredients found in many traditional methods.  
END THE MOLLUSCUM NIGHTMARE NOW.
Get The All-natural, #1 Solution And The Complete Package For Treating Your Molluscum.
Naturasil for Molluscum Treatment Kit For Children and Adults.
Our Top Selling Treatment liquid  plus Molluscum Treatment Soap. Good for all sufferers but best for large outbreaks and / or those with Molluscum on the genitals. Simply apply as directed. Best for treating Genitals and other sensitive areas and children or adults  with large or severe Molluscum outbreaks.
Naturasil for Molluscum has had numerous positive feedbacks on its effectiveness. When paired with Naturasil Immune Renew, which many people have raved about, you have a full treatment solution for Molluscum Contagiosum. We consider it a success based on feedback.

What exactly does Naturasil Molluscum Value Pack do?

Naturasil for Molluscum assists in relieving Molluscum Contagiosum, a viral infection of the skin. Naturasil Immune Renew supports your own immune system in combating the virus that causes molluscum.

How do I use Naturasil Molluscum Value Pack?

 Wash the affected area and dry thoroughly. Apply Naturasil for Molluscum directly to the affected area 2-3 times a day until the infection is gone. Take 1-2 Vcaps of Immune Renew daily with a full glass of water.


How long before I see results?

Results can generally be seen in 7 - 21 days.


In what form does Naturasil for Molluscum come?

Naturasil for Molluscum is in liquid form and comes with a built-in applicator brush for easy use.


How do you properly store this product? What is the shelf life?

Store in a cool place out of direct sunlight such as a cupboard or closet. If stored correctly, both products have a shelf life of 2 years.


How long does this pack last?

Naturasil Molluscum Value Pack should last approximately 2 months depending on usage.

Can I take if I am pregnant or breastfeeding?

Ask a doctor before use if pregnant or nursing.

Don't Just Take Our Word For It!
"IT WORKS"
After a year, and trips to the doctor, we were feeling discouraged about these bumps/warts. They started above his eyebrow and spread to his eyes, arms, legs and torso. I came across this product and decided to give it a try based on reviews. We are so glad we did! It's been almost 4 weeks and my son's immune system is finally fighting this virus. They do get bigger, and red before they start heeling. I have been applying this serum 4x a day. We are feeling hopeful that the rest will go away before he starts middle school.

Kimberly
"BEST TREATMENT FOR MOLLUSCUM"
"This stuff works! We'd tried everything for our daughter with no success. We were about to call the doctor to do a freezing treatment. My aunt suggested this stuff and we gave it a shot. 3 weeks later her legs look almost 100% better. The before and after are just amazing!" 
- Sarah
"BUY IT NOW!!"
"I cannot be more thankful for this product. Our 2-year-old son had molluscum covering the back of both of this legs, spreading daily. It was painful for him, as his pants would rub against them, causing them to bleed. I found Naturasil after some research. After reading the reviews, I figured it was worth a shot! Y'all, I cannot believe it!! After three weeks, all of his molluscum is completely gone! I am overjoyed, and so is my son! He says, 'Mommy, all my spots are gone!' Thank you, thank you! I am so happy to have found a natural product that was painless and effective!"  - Christopher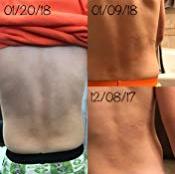 "
My 3 yo son was diagnosed with molluscum at the end of September 2017 with only a couple of bumps. By mid-November, he had over 25 bumps on his back, legs, and shoulders. While the dr said It would go away on its own but could take 6 months to a year, I decided to try naturasil. Worked like a charm: 3/4 of his bumps gone in 1month, completely cleared after 1.5 months. I recommend.   - Momma

"
"I have literally never written a review but I just had to about this. My son had molluscum for months and his doctor basically told me there was nothing they could do but let it run its course.... which can take months. It started on his left arm and then started spreading to other parts of his body and only got worse. That's when I decided to try this stuff. I didn't take a before picture of his arm but it was literally covered from his armpit to his wrist. This picture is what it looks like after using this oil for 4 weeks. He only has two spots left."  Beth 


"IF YOU ARE CONSISTENT, IT WILL WORK!"
"I have never written a review in my LIFE, but as a concerned parent, I feel like I should share my experience.

After trying out 11 other products I finally found my answer!!! I felt like I have tried it ALL! Band-aid patches, creams, ointments, special soaps who all itched excessively, burned A LOT, and created heart-filled tears! I struggled for a year in looking for a solution for my 5 year old son's pesky Molluscum. Doctors just told me to wait it out but we had been waiting for 2 years. I had to do something for him to gain back his confidence in wearing shorts.

I regret not taking pictures but this stuff works!!! I put it on my 5 year old son at the time. No burning, no irritation, just please BE CONSISTENT on applying 3x a day on every little dot, everyday. I started seeing results in as little as a week! If too many Molluscum dots start just in one area like I did which was behind the knees only. Now I am buying for my 6 year old niece who has the same issue and saving my sister from a lot of headaches and heartache on what to buy for her child!"
Mel
"100 RECOMMEND (:"
"100% recommend! My 7 year old had over 20 'bumps' on his face and body. I started applying this product about three to four times a day and it was gone in a week! Any new ones we see we knock it out early! I will always keep this stuff around! Bless the people who created this product, it really truly is magical."
-thankful mom.
Dylan
THE MOST INNOVATIVE, COMPLETE FORMULA TO EFFECTIVELY ELIMINATE MOLLUSCUM IS HERE, AND IS NOW AVAILABLE WITHOUT PRESCRIPTION!

You need a set of products designed to work together in the proper proportions to treat you and those living in your household. Take a look below for more important information that you cannot be without!
Naturasil for Molluscum Treatment Kit For Children and Adults.
Our Top Selling Treatment liquid  plus Molluscum Treatment Soap. Good for all sufferers but best for large outbreaks and / or those with Molluscum on the genitals. Simply apply as directed. Best for treating Genitals and other sensitive areas and children or adults  with large or severe Molluscum outbreaks.
Please note, these products are for external use only and are not designed for ophthalmic use.
Naturasil Molluscum Contagiosum Treatment

100% SATISFACTION–33-DAY, MONEY-BACK GUARANTEE.
Naturasil's Molluscum Contagiosum treatment formulas have active ingredients that are officially monographed in the "Homeopathic Pharmacopoeia of The United States" and are based on the materia medica.
NATURASIL®

- A TRUSTED LEADER
OVER AN 18 YEAR HISTORY OF PROVEN RESULTS WITH REAL PEOPLE FINDING THAT NATURASIL PRODUCTS–REALLY WORK!