Naturasil for Molluscum - All Natural, Homeopathic, No Acids, and Pain-Free for Children and Adults, Proudly Handmade in the USA
✔️ 100% safe and natural plant extracts for easy, at home molluscum contagiosum treatment - No scarring*
✔️ Child-Safe (2 years and above) - Causes molluscum to dry up and flake away painlessly over time*
✔️ No harsh medicines, freezing agents, acids, or burning remedies. Absolutely no additives, only 100% pure, natural high quality ingredients*
✔️ Always small-batched and proudly handmade in the USA right outside of Atlanta, GA in our FDA certified facility. Never tested on animals ever*
**Always consult your doctor before starting any new regimen. Always do a skin patch test before applying liberally. If an undesired skin reaction occurs, discontinue use immediately. Individual results may vary. **
 INGREDIENTS:
Thuja Occidentalis 6X HPUS 
Cedar Leaf Oil 
Melaleuca Alternifolia Leaf Oil 
Ricinus Communis Seed Oil 
Customer Reviews
Write a Review
Ask a Question
Filter Reviews:
Molluscum
bumps
dermatologist
results
times
daughter
spots
skin
Naturasil
everything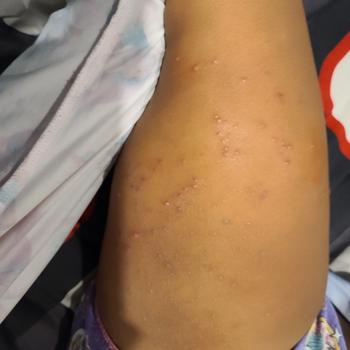 11/09/2020
Great product
This product is working great for my daughter. It's been about a week now and her skin is clearing up wonderfully. Before buying this product her legs where really in bad shape and her doctor tried freezing some off which worked for one or two but there were too many for that to be a practical solution then he prescribed hersome terrible tasting medication in pill form first and she couldn't swallow that because it was too large (she's 5) then he prescribed her some other medication which she could not swallow because it tasted horrible. We tried to get her to drink but after 5 days of the tournament with no results at we decided to try this product. Within days we noticed the bumps drying out. Thank you so much for this product...I'm a big advocate for using natural products and wished the medical industry would do the same instead of giving our children medication all the time. I would recommend this product. The only thing I would say is this product has a strong smell to it but if you can get passed that you will not be disappointed.
Kareem B.

United States
What fantastic news Kareem! We are so very happy your daughter is feeling relief from our product. Thank you so much for sharing your story. We appreciate your business, thank you!
08/04/2020
It works great!
I bought this for my six year old and within one week, applying twice a day it is almost completely gone!
courtney e.

United States
Such great news and thank you for the pictures! We appreciate your business and are so pleased your child is healing. Stay safe!
01/19/2021
So far I'm impressed!
We've only been using for about a week but I wish I would have found this sooner. We've been dealing with molluscum on my 7 year old for almost a year. I think we were kind of on the healing end as it was but my son was complaining constantly of then itching so I went out and bought whatever I could find. This seems to be the best option we've come across and the bumps are almost gone. I definitely will order this again if any of my other kids end up with molluscum.
MS
Mindy S.

United States
What great news to hear, Mindy! We are so glad your son is seeing relief. Thank you so much for your business, we appreciate you. ~ Alana
01/13/2021
God send
I am so incredibly thankful I fell across this product while researching natural ways to help mellscum. My daughter was diagnosed with it about two years ago and ever sense than we have found no remedies, we even seen a Dermatoligist who burnt them off and I swore I would never put her through that again we have only been using this product a couple of weeks but I have already ordered my second bottle. Her skin has cleared up almost completely after a massive breakout. Thank you guys for this amazing non painful product for something that's barely been researched.
Tyeona D.

United States
Oh my heavens, Tyeona! Sounds like your poor daughter has been really tough and anguished. As a mother, I can only imagine how horrible you must feel. We are SO pleased our product has helped her and yes, in a non-painful manner. Thank you for this wonderful story, I will be sharing it with our owner and CEO, Bill, and our staff. We hope she heals swiftly and quickly! Thank you again for your business, stay safe! ~ Alana
12/17/2020
Product
The product is something to brag about. My skin imperfections are fading right away.
Michael M.

United States
Oh, Michael! This is such great news. We are so pleased our solution is working for you and that you are happy. Thank you for your business. Stay safe! ~ Alana
12/09/2020
Amazing product
I am so impressed with how well this worked for my 8 year old daughter. She has been battling molluscum for almost two years now and nothing has worked. Her rash was primarily on her neck and started to make her feel insecure. Last month it started to spread onto her arms and inner legs so I decided to look for alternative treatments. I stumbled across Naturasil with a quick internet search and after reading all of the reviews I was sold. We started her treatment about 1.5 weeks ago applying twice a day. It is amazing how most of her spots are almost gone or gone completely. No longer have those white heads on them and her rash on her neck looks 95% better compared to a week ago. I am truly impressed and would recommend this product if you or your child is suffering with Molluscum!
Rachel D.

United States
WOW! We are so happy to hear this Rachel! Thank YOU for this glowing review and we are over the moon with joy that your daughter is doing so much better. Thank you for your business, we truly believe in our products and know they work without causing harm. Stay safe! ~ Alana
12/08/2020
Fantastic
This product cleared up the Molluscum in one month. We used it twice a day, very satisfied! Highly recommend it if you want a cure.
Tarah H.

United States
Yay Tarah! What happy news. We are so glad you guys are satisfied. Thank you so much for your business, we do appreciate you. :)
11/17/2020
Loving the product.
I found that the product seems to work as it is claimed to. I am still using the product due to the fact that I only apply it once a day. Thank you.
Michael M.

United States
Great news Michael! As long as you are satisfied with our treatment, we are happy campers. Thank you for your business. :)
10/26/2020
One Word ----> WOW!
Effectively worked for our granddaughter. Absolutely everything mentioned from prior customers. Truly not disappointed and will gladly suggest to others. Most Sincerely, Dr. John
john W.

United States
Oh wow! This is so great to hear our solution is helping your granddaughter, Dr. John. Thank you for your business, we do appreciate you. :)