Naturasil for Molluscum - All Natural, Homeopathic, No Acids, and Pain-Free for Children and Adults, Proudly Handmade in the USA
✔️ 100% safe and natural plant extracts for easy, at home Molluscum Contagiosum treatment - No scarring*
✔️ Child-Safe (2 years and above) - Causes Molluscum to dry up and flake away painlessly over time*
✔️ No harsh medicines, freezing agents, acids, or burning remedies. Absolutely no additives, only 100% pure, natural high-quality ingredients*
✔️ Always small-batched and proudly handmade in the USA right outside of Atlanta, GA in our FDA-certified facility. Never tested on animals ever*
Most Trusted Molluscum Brand
Effectively & gently clears Molluscum bumps

Relieves itching & discomfort 

Essential oil blend

Dermatologist approved formula

Backed by 18 years of research

Easy to apply

Pain-free: no acids, freezing, or burning

FDA registered
Child-Safe Formulation
Homeopathic practitioner, Bill Carlson, created Naturasil for Molluscum after having witnessed his own son contract the viral condition when he was 6 years old. Fed up with pharmaceutical solutions, he set off to experiment and develop our effective, natural formula, which is proven, trusted, dermatologist approved, and 100% pain-free.
Instructions
Use the applicator brush attached to the cap and gently brush each Molluscum papule with Naturasil solution.*

Apply 2-3 times per day to the affected area until symptoms disappear. For external use only. 
**Always consult your doctor before starting any new regimen. Always do a skin patch test before applying liberally. If an undesired skin reaction occurs, discontinue use immediately. Individual results may vary. **
 INGREDIENTS:
Thuja Occidentalis 6X HPUS 
Cedar Leaf Oil 
Melaleuca Alternifolia Leaf Oil 
Pale-Pressed Ricinus Communis Seed Oil 
Customer Reviews
Write a Review
Ask a Question
Filter Reviews:
Molluscum
bumps
daughter
times
dermatologist
results
doctor
something
Naturasil
spots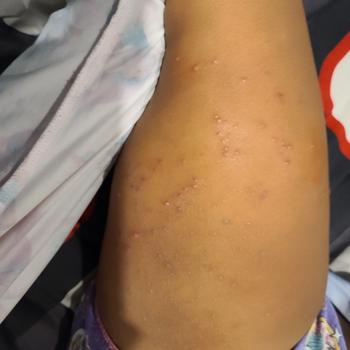 11/09/2020
Great product
This product is working great for my daughter. It's been about a week now and her skin is clearing up wonderfully. Before buying this product her legs where really in bad shape and her doctor tried freezing some off which worked for one or two but there were too many for that to be a practical solution then he prescribed hersome terrible tasting medication in pill form first and she couldn't swallow that because it was too large (she's 5) then he prescribed her some other medication which she could not swallow because it tasted horrible. We tried to get her to drink but after 5 days of the tournament with no results at we decided to try this product. Within days we noticed the bumps drying out. Thank you so much for this product...I'm a big advocate for using natural products and wished the medical industry would do the same instead of giving our children medication all the time. I would recommend this product. The only thing I would say is this product has a strong smell to it but if you can get passed that you will not be disappointed.
Kareem B.

United States
What fantastic news Kareem! We are so very happy your daughter is feeling relief from our product. Thank you so much for sharing your story. We appreciate your business, thank you!
08/04/2020
It works great!
I bought this for my six year old and within one week, applying twice a day it is almost completely gone!
courtney e.

United States
Such great news and thank you for the pictures! We appreciate your business and are so pleased your child is healing. Stay safe!
05/25/2021
This stuff works and does wonders!!!!!
When I first saw this, I was a little skeptical. I thought, well, I'll give it a try. If it doesn't work, oh well. It was worth a shot. My daughter had suffered with molluscum for 1 year. Took her to the doctor, they said it will go away between 6 months to 4 years. My daughter itched like crazy and was embarrassed to wear shorts or skirts because it was behind her knee as well as underneath one of her butt cheeks where her underwear would rub. We used this stuff for 2 weeks and started seeing a difference. After 45 days of applying this 2-3 times a day...... I can finally say it's ALL GONE!!!!!!! She is Molluscum free and doesn't have to worry about it anymore!!!! This stuff WORKS. Please do yourself a favor and try it!!!!! We are so happy and relieved that we found a natural way of getting rid of it. Thank you Naturasil!!!!
Lacey

United States
Oh gosh, Lacey, this is such fabulous news to read. We are beyond happy your poor daughter has found relief with our treatment. Thank YOU so much for sharing your journey. We appreciate your business. ~ Alana
05/20/2021
Miracle Product!
My five year old struggled with Molluscum for nearly a year before we tried this product. Our pediatrician said there was nothing we could do about it and just let it run its course. I did that until our eight year old also contracted it, and I thought there must be something out there to help. A few weeks after applying the medicine daily, the bumps started to go away! I couldn't believe it. What once caused me so much stress and my son so much discomfort, is just gone!
Sarah

United States
This is such fantastic news, Sarah! We are overjoyed that both of your sons are finding relief with our treatment. Thank you for sharing your journey and your business. We do appreciate you! ~ Alana
05/11/2021
AMAZING!! This product has worked wonders on my 4 year old daughter!
I am so pleased with this product!! I received this item, 8 days ago and started using it on my daughter's molloscum bumps. She had over 100 bumps, mainly on her arms, stomach, behind her knees, and a few on her lower back. I have been applying the treatment three times a day for a week and they are almost all gone. The larger bumps that looked like pimples and were raised, have now completely flattened out... and the smaller bumps have practically disappeared. I am going to keep using the treatment until they are all completely gone, but I am very happy with how quickly this treatment worked! Thank you so much!
Laurelle T.

United States
Oh, Laurelle! This makes us so excited to hear how your daughter is healing and so quickly. For some people, it takes a little longer. We are so pleased for you! Thank you so much for your business, we do appreciate you. ~ Alana
04/14/2021
FINALLY!!
I'm thrilled we found out what these bumps are & something that gives our son relief & healing!
Rachel S.

United States
Perfect! We are so happy your son is getting better with our treatment. This is why our owner went into business. Thank you for your purchase, stay safe! ~ Alana
03/24/2021
Molluscum Product Review
We bought this for my daughter. She has been battling these pesky molluscum for years. The doctor said she would grow out of them. They have left scars on her body. We bought the Naturasil Molluscum Treatment and within less than one week, the molluscum were gone or drastically smaller. No pain either like with some other products we have tried in the past. She is so happy! Thank you!
Madeline S.

United States
Your poor daughter, Madeline! Yay! We are thrilled that she is finding relief with our solution. Thank you for your business! ~ Alana
02/16/2021
Miraculous!
My 6 year old daughter had the molluscum contagiosum bumps for at least six months. The pediatrician said to leave them alone. Then they went from a patch of bumps on her arm, to a much bigger patch, and spread to her abdomen, her other arm and behind her knee. Once it spread, it was like wildfire, they were popping up all over on her. I found this and figured we had to at least try it. OH MY GOSH!! We received the oil on Jan. 8, 2021. We started off with diligently applying three times a day. The last week or so we've been applying twice daily. It is Feb. 16, 2021 and I am extremely happy to report that she only has ONE bump on her arm, and ONE bump on her leg!!! The one on her arm is almost gone! The bumps get worse looking before they clear up, so stick with it because this stuff ACTUALLY WORKS!! my daughter and I are so pleased and this truly is a miracle! Thank you Natursil!
Amy F.

United States
Oh my goodness, Amy! Your poor baby, we are so excited that our solution is giving her relief. THANK YOU, for sharing your story with us. Our number 1 goal is making our customers 100% satisfied and this warms our heart. We appreciate your business. ~ Alana
02/16/2021
Works!
After using for a few days my daughters molluscum cleared up! The smell is okay but my 8 year old son did not like it and didn't want to use it.
Samuel S.

United States
We are so pleased your daughter is doing better, sorry about the smell, essential oils sometimes are not pleasant. Thank you for your business, stay safe! ~ Alana